2nd – 4th September, 2022
Venue- Zorba the Buddha, New Delhi
Intimacy- With all of Life
With Mohini Srishati and Swami Brahmananda
What is Intimacy for you ? DO you feel s*x and intimacy is same.
Would you have intimate relationships with people without being sexually involved.
This retreat can help you to bring true intimacy in relationships, with yourself and all of life.
Intimacy is more than what meets the eye. It brings out feelings of passion, emotions and helps to build trusting relationships.
Intimacy, 'a feeling that relates to - with me, about me, close to me.'A feeling that connects our deepest emotions or the lack of it with the people around us.
The greatest moments in intimacy happen between two people when the sense of time and space disappears.
Intimacy is not the same as connecting with someone sexually. S*x may or may not be needed to be intimate with someone.
Simple moments like sharing a smile, a hug, cuddle or even eye contact can be intimate.
When we let those boundaries melt away and completely allow the other person to see in their shadows and light, it becomes an authentic form of intimacy.
"We know sexuality is an ever-evolving fluid state of being. This retreat is an LGBTQ-friendly space for those who wish to explore this side of themselves in the most non-judgemental & safe way.
How does one begin this journey into understanding intimacy ?
To understand the meaning of true intimacy we first need to be intimate with ourselves. We have to build a bridge to this connection between the Body and Earth. This is our home. Intimacy is loving yourself, being the best lover to yourself. Nurturing a feeling of coming home to yourself, being safe and loved.
Why join this retreat ?

Are you looking for emotional stability in yourself and in relationships.
Would you like to boost your self confidence and body language
Would you like be a master lover
Learn techniques to chanel sexual energy
How to drop from busy chattering mind to present moment
Connecting and listening to body, heart and energy
To be your authentic self ?
to express your sensual/ sexual desires with your partner?
Want to get out of your mind and be into the body?Learn to love yourself again!
Then this is the right place to begin!
Tantra teaches us how to use all of the energies of the universe for the purpose of self-realisation. Accept the beauty of this body as a temple of sacredness embracing that wild sensuality without any shame, guilt, or conditioning. This retreat will be a robust mix of classical tantra with neo-tantra practices. Learning how to use everyday experiences of daily life as a means of realising the self.
What will you learn from this retreat ?
Understand and explore sensuality
Learn classical and neo-tantra practises for self-realisation
How to embrace yourself fully
How to build a sense of feeling safe, comfortable and at home with the opposite gender
Experiencing love on different levels- spiritual, sexual, soul
How to be open to self-love
Healing and awakening of the soul
you will discover the potent secrets of tantric intimacy, on how to love and be loved.
Wouldn't you like to melt in moments where nothing else matters? Learn the tantric way of living life and going beyond the body, connecting through energies.
How?
This retreat will be a robust mix of classical tantra with neo-tantra practices.
Through different Tantric solo and partner exercises
Through breathwork
Practices will be shared from Vigyan Bhairav Tantra scriptures to let you understand the deeper intimacy of life
Conscious dance and movement practices
Evening events
Via Gpay
Please send the payment to the following
Gpay number
Srishati Singhal : 9810546868
Through Bank Transfer
Bank Transfer Details
Name: Srishati Singhal
Account Number: 14011930004591
IFSC Code: HDFC0001220
Early Bird
Valid till 12th August
OPTION 1
Book Super early bird
₹ 18,500
₹ 15,800
Book Now
Inclusions:
2 nights /3days stay on shared basis
All meals on 3 days (We ll start with lunch on 2nd and end with dinner on 4th)
Teaching fees for the 3 days retreat
Taxes
OPTION 2
Book early bird
₹ 13,500
₹ 11,998
Book Now
Inclusions:
All meals on 3 days (We ll start with lunch on 2nd and end with dinner on 4th)
Teaching fees for the 3 days retreat
Taxes
"For those in mens body, if it's your first time to a tantric group. Kindly fill in this form before registration. And we shall get back to you soon with your application to attend.
Click Here to Fill the Form
About the facilitator
Mohini Srishati
Tantrica, life coach & Sex educator
Mohini Srishati is the founder of www.evolvebeings.com which is an online educational platform for spiritual and Tantra programs. She is the creator of Wonder Women festival, which is an event hosted online/offline to ignite many women hearts and souls. She is a versatile woman surfing in real life through different roles of being a mother, tantrica, business woman, evolution expert and a traveller. Her ability to relate is unconventional and open, in the most romantic and playful way. She is an avid learner and has spent time with many tantra teachers and is inspired by Osho, Goenka and Mooji. She is a certified Tantra teacher from Tantra essence.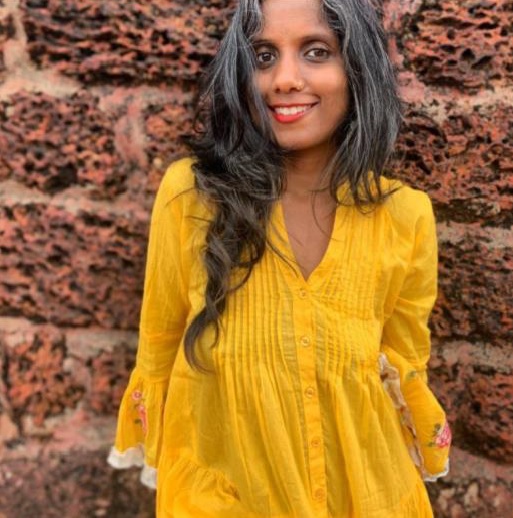 "It was my recent fortune to take an experience of a private sessions with mohini...this was an experience that touched and opened up the internal energy systems that one had not known before...the body of the other became translucent and one could feel an energy of love and awareness....take over...

I am truly grateful to mohini for customising the session as per the flow of the moment...and holding a space of tremendous love and..clarity....this enabled me to go deeper and deeper with more ease....and look within to discover a newness that was undiscovered before..to release pains unknown..and the ability to expand to finer vibrations...

This session for me was an experience of accessing the divine through the presence of another where both the individuals are not present....and only the feelings of each other's beings are there....

Thank you mohini for giving me a chance to experience this...your love, strength and tender care has allowed me to enhance as a person...

With gratitude

Shantanu, Kolkata

February 2022
About the facilitator
Swami Brahmananda
Spiritual Teacher, Classical Tantra Specialist
Swami Brahmanada was born American and raised in the Roman Catholic tradition. At the age of 18 he experienced a crisis in faith and began travelling the world seeking answers to the fundamental questions of life. During the next seven years he travelled to more than 70 countries and practised many of the world's spiritual traditions.He has been a student of Swami Muktananda for seven years. And later was introduced to Kashmiri Shaivism.
With deep knowledge in Shiva Sutras, Pratyabijnahrdayam, Vignana Bhairava Tantra, and Spanda Karikas. Over 42 years of being an expert in classical tantra, Brahmananda has devoted his life to being a student of the Meditation Revolution. To continue this revolution and spread the teachings of Kashmir Shaivism around the world.