Venue- Satsanga Retreat, Goa
Connecting With Hara & Heart – Integrating Sensuality, Emotions and Love
With Mohini Srishati and Akal
Book Now
We often struggle connecting sex, emotions and love together when it comes to ourselves or in relationships. We often struggle trying to integrate sensuality, emotions and love within ourselves or relating with others.
We either have a lot of ignorance or over indulgence about our bodies , desires, intimacy or overindulge mentally or physically. Instead of enjoying the natural flow of our emotions, we experience fear and a sense of separation which leads to further heartbreaks and rejections in heart relationships…… this is the moment to look within our insecurities and confusion, to find a way to transform and to heal. So how to feel at home physically, emotionally and mentally?
This retreat will focus on opening our body/mind, experiencing our energy in different levels of consciousness; comprehending the nature of intimacy, emotion and love and integrating them in a sensitive, protected environment.
Book Now
Located two fingers down the naval, in the centre of the abdomen, referred to as the hara, reside the organs that give us life. It is the womb where a woman receives the child. It is also the centre of emotions and sensuality. It is in our Hara or navel where we we received that life from our mother by way of the umbilical cord. As such, these areas are the focal point of energy in our body from which life is given, sustained, and taken away. It is also the centre of our gut.
When this centre is not free we experience anger.
When it is flowing we experience the sense of being unified, un compromised, a rich sense of bliss, of being one with the source
When this chakra is in alignment then one feels 'power' 'purpose' and integrity. Things can flow effortlessly in life.
What is Heart?
In tantric teachings, a lot of focus is given to the heart centre. The power of the heart, emotions & presence over how we feel is important.
Love flows naturally from heart to heart. As simple as holding hands, the pulse beat in one hand will begin to pulse in rhythm with the pulse beat in the other hand.
Heart is the bridge between the spirit and the hara. Most of us have not been taught to have a connection between these two.
When the heart centre is negatively charged, we experience sadness, we deny love for ourselves and miss a sense of magic in our lives.
When the heart is in alignment and open we recognize we are love and see it around us in all its manifestations.
What will you learn from this retreat ?
Understanding and Connecting sex, love, emotions
Letting go of shame, inhibitions, and conditioning around our bodies
How to open and channel our

primal

energy
How to embrace yourself fully
Mental and emotional well-being
How to deal with different emotional states of being
Experiencing love on different levels- spiritual,

sensual

, soul
Nourishing self-love
Healing and awakening of the soul
Experience the silence of being
How?
Through the ancient techniques of Tibetan pulsing and neo-tantra practises for self-realisation
Conscious movement practices
Breathwork
Active meditations
Embodied practices shared in the group to practice
Are you looking for emotional stability in yourself and in relationships?
Do you want to connect with your heart space?
Learn techniques to channel

sensual

energy
How to connect to be an authentic lover?
Learn to Connect and Listen to your to body, heart and energy
To be your authentic self?
To express your sensual desires with your partner?
Want to get out of your mind and be into the body? Learn to love yourself again!
Then this is the right place to begin!
Via Gpay
Please send the payment to the following
Gpay number
Srishati Singhal : 9810546868
Through Bank Transfer
Bank Transfer Details
Name: Srishati Singhal
Account Number: 14011930004591
IFSC Code: HDFC0001220
Early Bird
Valid till 12th August
OPTION 1
Book Now
Inclusions:
Twin sharing accommodation 2 nights in the resort

3 meals on both days (Breakfast / Lunch / Dinner)

Teaching fees
Taxes
OPTION 2
Book Now
Inclusions:
3 meals on both days (Breakfast / Lunch / Dinner)

Teaching fees
Taxes
What is Tibetan Pulsing ?
Tibetan Pulsing is a deep work within the nervous system which touches both the psychological and physiological aspects of a person. It is based on the understanding that healing is a process of transformation and that illness is an unbalance due to negative electrical charges in the nervous system. Our work is to produce a bioelectrical flow of energy with positive charge with help of the pulse beat of the heart and to direct it through the electrical circuits feeding the specific organs to remove those negative blocks. As we are working on the nervous system, the electrical flow through the pulse beat will flush and transform both the physical as well as the psychological aspects connected with it. Healing occurs when we are able to see and disconnect from the fixed negative patterns in our nervous system.
The retreat starts on 20th 9:30am & ends on 21st 6:30 pm followed by dinner
About the facilitator
Mohini Srishati
Tantrica, life coach & Sex educator
Mohini Srishati is the founder of www.evolvebeings.com which is an online educational platform for spiritual and Tantra programs. She is the creator of Wonder Women festival, which is an event hosted online/offline to ignite many women's hearts and souls. She is a versatile woman surfing in real life through different roles of being a mother, tantrica, business woman, evolution expert and a traveller. Her ability to relate is unconventional and open, in the most romantic and playful way. She is an avid learner and has spent time with many tantra teachers and is inspired by Osho, Goenka and Mooji. She is a certified Tantra teacher from Tantra essence.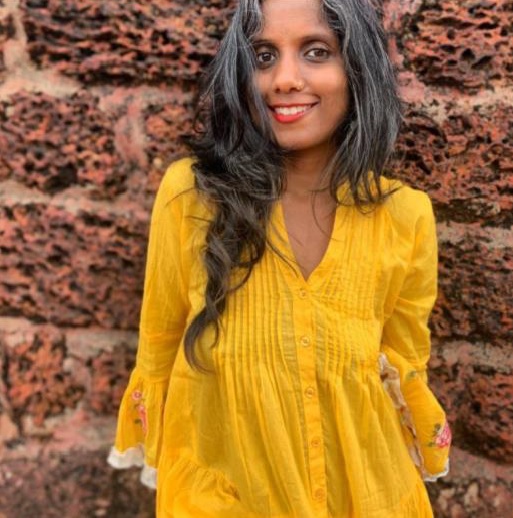 "It was my recent fortune to take an experience of a private sessions with mohini...this was an experience that touched and opened up the internal energy systems that one had not known before...the body of the other became translucent and one could feel an energy of love and awareness....take over...

I am truly grateful to mohini for customising the session as per the flow of the moment...and holding a space of tremendous love and..clarity....this enabled me to go deeper and deeper with more ease....and look within to discover a newness that was undiscovered before..to release pains unknown..and the ability to expand to finer vibrations...

This session for me was an experience of accessing the divine through the presence of another where both the individuals are not present....and only the feelings of each other's beings are there....

Thank you mohini for giving me a chance to experience this...your love, strength and tender care has allowed me to enhance as a person...

With gratitude

Shantanu, Kolkata

February 2022
About the facilitator
Akal
Akal specialises in Tibetan pulsing Healing . She arrived from Italy in 88 to meet her Master Osho . She sat blessed by his presence till 91 when he left his body. On the day of Osho's departure, working on the
heart centre, she encounters an ancient Tibetan Tantric Technique, Tibetan Pulsing yoga and she is deeply touched. During the following nine years she will be fully involved in this inside Osho Ashram and
in Italy , working closely with Sw. Shantam Dheeraj, the Teacher and Master who created the work and devoted his life to form a whole healing system and a map of human consciousness. During this period of formation she gave sessions and lead groups.. She created a group for couples : The Kiss of the Dragon , a journey addressed to couples and friends to explore the powerful energies of being together.
After Dheeraj's death in Bagni di Lucca Italy in 98, she continued the work for two more years and in 2000 she left the energy work and moved back to India, settling in Goa.
A few months ago and after 22 years she felt the strong pull to start the work again. She is now giving sessions and leading events.